By: Daniel Tokarz
June 12th, 2018
Introduction
The 21st World Cup will kick off later this week, considered by many to be the greatest show to earth.  Indeed, much of the world considers this to be their Super Bowl, especially those citizens of the 32 nations lucky enough to have qualified for this year's tournament.  While our boys from the United States Men's National Team will have to watch from the comfort of home, we at YUSAG are all very exciting for the drama that is sure to unfold over the next month.  Can Germany become the 3rd team ever to repeat as Champions?  Will either Brazil and Argentina redeem themselves from their respective tough 2014 late-tournament losses and bring the trophy back to South America?  Can Spain actually make it out of the group stage this time?  While it's impossible to know the answers to any of these questions right now, we set out to create a model that would provide us valuable insight into who is worth watching for in Russia.  If you're reading this and the tournament hasn't started yet, be sure to head here and fill out a bracket in the 2018 YUSAG World Cup Challenge. 
A far more detailed article about the model can be found here. While we started out attempting to replicate the model with which we have found success in American football and basketball, we soon realized that soccer (or football for all the non-Yanks out there) was an entirely different ball game.  The low scoring and prevalence of 0-0 games meant that assuming a normal distribution of goals scored was out of the question.  Because of that, we used a Poisson Distribution (a type of discrete probability distribution good for low count events) to approximate the goals scored in a game.  Using data from Kaggle, we looked at every international game played since January 1, 2014 in the creation of our model.  We weighted recent games more heavily according to an exponential decay function and assigned a base weight based off of the game classification given by FIFA (World Cup Qualifying more important than a Friendly for example). 
Who's Hot, Who's Not
Our model outputs offensive and defensive coefficients for each country, which offer a good metric for ranking the 32 teams in the World Cup. 
There don't seem to be any surprises at the top, with the traditional European and South American powerhouses making up the top 5.  We have to go down to the 15 spot before we see a country outside either of these two continents, and the bottom half appears dominated by the nations of Asia, North America, and Africa alongside only 4 of the 14 European teams and none from South America.  The number of bids given to each continent are perhaps the only thing preventing what would otherwise be an almost exclusively European/South American Affair.  In our overall national rankings, only two of the top 32 teams (Morocco and Senegal) represent another continent.  Twice in history has a team outside of Europe or South America made the top 4.  I'd be surprised if we see one this year.
Best Offenses and Defenses
Aside from net rating, we can look at who has been finding the net and keeping their opponents out better than anyone in the last 4 years.  The old cliché goes that the best offense is a good defense.  With 5 teams appearing on both lists, it's hard to disagree with them.  It's hard to see an immediate weakness in a German squad that comes at #2 in terms of both Offense and Defense.  With their star goalkeeper Manuel Neuer back from injury, they're looking like the team to beat in 2018. 
10 Best Defenses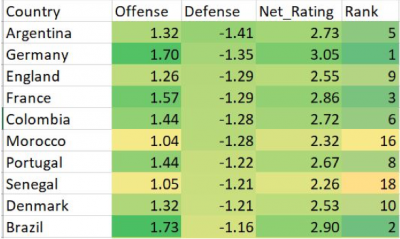 10 Best Offenses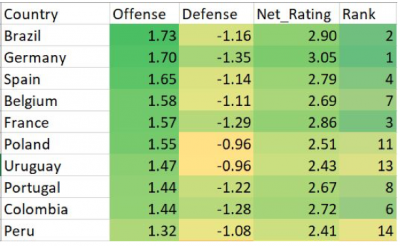 Group Stage Preview
One of my favorite features of the World Cup is the Round-Robin group format that guarantees every team three games, from the favorites to the teams that are thrilled to have qualified.  We'll go group by group to see who has the best chance of making it to Round of 16.  
Group A
Russia might be the host and the Pot 1 team in this group, but it looks like Uruguay is the team to beat here, winning the group outright in almost half of our simulations.  You might remember Luis Suarez from the 2014 tournament.  He's back and out to add to his numbers as Uruguay's all-time leading scorer (both in goals and in opponents bitten). Egypt's success will be dependent on the health of star forward Mohamad Salah (the Pharaoh) who was injured in last month's Champions League Final by the always polarizing Sergio Ramos.  While Saudi Arabia looks to be overmatched in group A, a healthy Salah can help Egypt challenge Russia for the 2nd spot, and the Russia/Egypt game might very well be the game of Group A, especially if Uruguay can beat both of them on their way to the top.    
The Pick: Uruguay
Game to Watch: Russia vs Egypt (June 19) 
Group B
After taking home the trophy in 2010 and considered by many to be a favorite in 2014, a first round exit wasn't what Spain had in mind in Brazil.  They'll be out for revenge with a team stacked full of players from Barcelona, Real Madrid, and other top clubs.  Standing in their way is the man himself Cristiano Ronaldo, a player so good his name has entered into the American Lexicon.  He captains and carries a Portuguese Squad with the 7th best offense and 8th best defense in the tournament.  Morocco and their tough defense along with Iran will look to make trouble, but it'll be hard for either of them to unseat the Iberian powerhouses.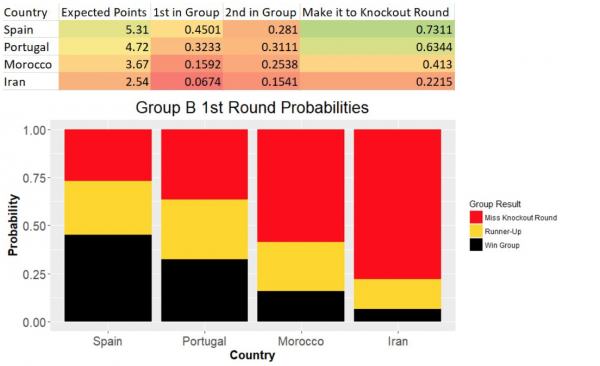 The Pick: Spain
Game to Watch: Spain vs Portugal (June 15)
Group C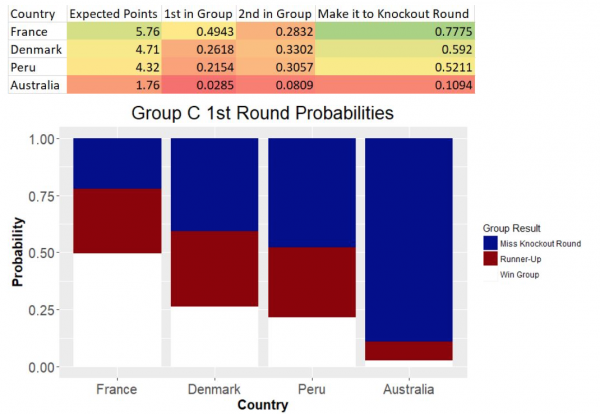 Perhaps a little too under the radar for their liking, France comes into the tournament with the 3rd best net rating and a squad featuring star forward Antoine Griezmann and Tottenham goalkeeper Hugo Lloris.  They're poised to make some noise in the knockout round and should be decent favorites in all three games.  Peru and Denmark will look to do battle for the 2nd spot.  Having qualified for the first time since 1982 over notable absentee Chile, Peru, like any other South American team, can't be underestimated with the 10th rated offense.  Denmark will look to slow them down with their 9th rank defense, led by captain and Sevilla man Simon Kjaer.  Sadly, it looks like Australia will continue the pattern of Asian teams staying in their groups this year. 
The Pick: France
Game to Watch: Peru vs Denmark (June 16)
Group D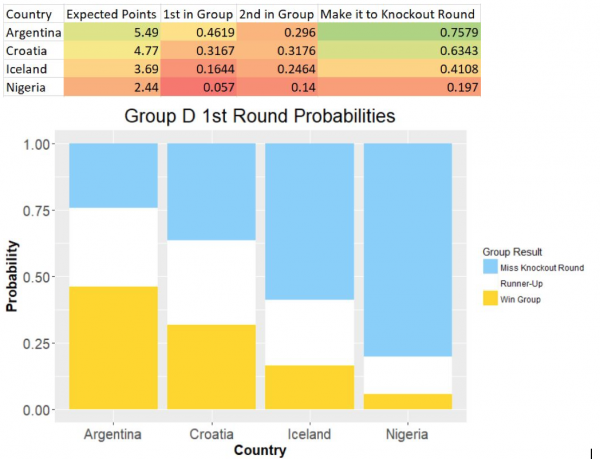 After losing in the 113th minute of the final in 2014, Argentina will be back looking for nothing short of the Trophy.  They boast unmatched star power, lining up Angel Di Maria, Sergio Aguero, and of course Lionel Messi, who has returned at age 30 with a new beard and a thirst for vengeance.  Make no mistake, they're coming to Russia expecting to win.  They'll come up in the first round against Nigeria, whose jerseys have sold out time and time again in record time, but who will have a hard time taking multiple victories back home to Africa with them.  Croatia and Iceland round out the group, and there's a pretty safe bet that one of them will be advancing.  Croatia is captained by Real Madrid midfielder Luka Modric, who is coming off of his 3rd straight Champions League title.  Iceland has qualified for the world cup for the first time and makes history as the smallest nation ever to do so.  If they can play Croatia tough, there's a chance that their Cinderella Story won't end in the group stage.
The Pick: Argentina
Game to Watch: Croatia vs Iceland (June 26)
Group E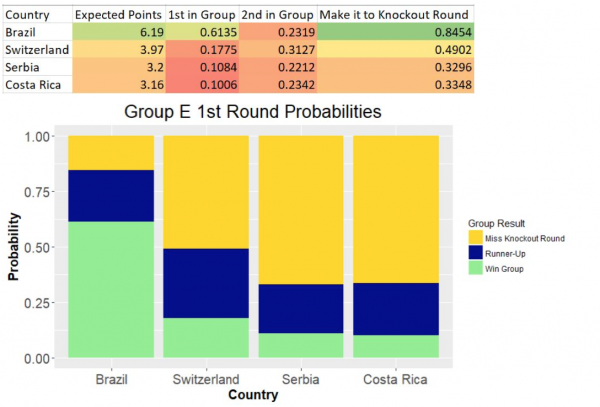 When fan-favorite Neymar went down in the quarter finals of 2014, Brazil fans dream of a home victory took a hit that manifested itself when they lost 7-1 in the semifinal match to Germany.  At age 26, Neymar is back and looking to finish what he couldn't in 2014, starting with a group E that seems to clearly have one titan.  While it will be a pretty big surprise of Brazil makes an early exit, it's plausible that any of the other three teams could take the 2nd spot, with Costa Rica hoping for another Cinderella Trip to the quarter finals and Serbia/Switzerland out to prove they warrant consideration among the top teams in Europe.  While we'll give the slight, edge to Switzerland group E looks like it'll be one to watch.
The Pick: Brazil
Game to Watch: Costa Rica vs Serbia (June 17)
Group F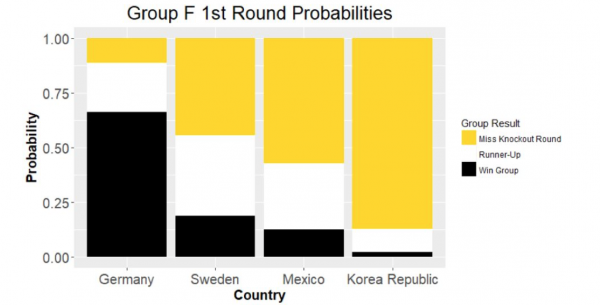 The reigning champions are back with a pretty similar squad to the one that didn't lose a game in the 2014 tournament, returning 6 players who started the 2014 final.  A well-balanced team that includes a defense known as one of the best in history combined with a patient offense that doesn't waste opportunities will prepare Germany for another deep run.  Sweden and Mexico will try to fight for the 2nd spot.  Sweden returns for the first time since 2006 but without the mighty Zlatan.  Mexico has been eliminated in the round of 16 at the last six tournaments and will look to finally get over the hump.  South Korea will look to play spoiler but should have a tough go of it looking pretty outmatched in Group F. 
The Pick: Germany
Game to Watch: Sweden vs Mexico (June 27)
Group G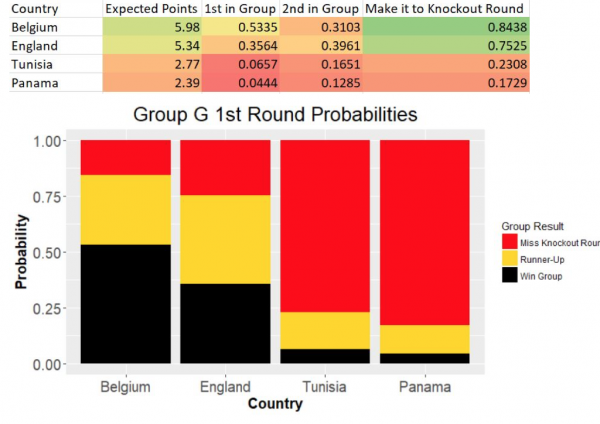 Two Western European powers face off in Group G as Belgium and England come in under the shadow of France, Germany, and Spain as the class of the continent.  England brings a squad full of premier league stars including captain Harry Kane who is coming off a tremendous 30 goal season.  Belgium returns Chelsea star Eden Hazard to lead their squad that many people are seeing as a dark horse champion pick.  While England has struggled in the last two tournaments, they're looking for a change of fate this year and are hoping to start out taking care of business in Group G.  Tunisia and Panama will have a tough time in this top heavy group, with neither squad advancing to the knockout stage in even a quarter of our simulations.
The Pick: Belgium
Game to Watch: Belgium vs England (June 28)
Group H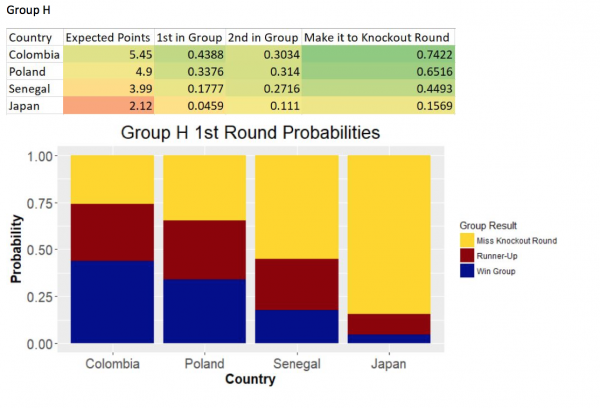 Group H rounds out the pack, joining Group A as the only foursome with each team representing a different continent.  Colombia looks to be the favorite here as James Rodriguez, who had a break out performance in the 2014 tournament, looks to once again shine, now playing for Bayern Munich at the age of 26.  Senegal represents the best chance for a non-European/South American team to advance to the round of 16.  Their 8th ranked defense will have its hands full with Poland and Bayern Munich striker Robert Lewandowski, who led German league with 29 goals this season.  That match could prove pivotal in determining who is still playing when the group stage rounds up.  Japan is certainly one of the better teams from the Asian continent, but their competition will get stiffer as they take on their Group H opponents.
The Pick: Columbia
Game to Watch: Poland vs Senegal (June 19)